Everybody knows the Cinch Timed Event Championship is the truest test of all-around timed-event talent. It's also the toughest, and that goes for every aspect of cowboying and competition—physical and mental—and for all of the humans and horses, it takes to tackle five rounds in five events. The 2021 Timed Event is coming in hot and will light up the Lazy E March 11-13 and lead straight into the BFI on March 14 as part of this year's ground-breaking Championship Weekend at the Lazy E Arena. Four Timed Event titans—Erich Rogers, Jordan Ketscher, Justin Thigpen and Jess Tierney—just stepped up to talk about trying TEC trials, past and present.
Erich Rogers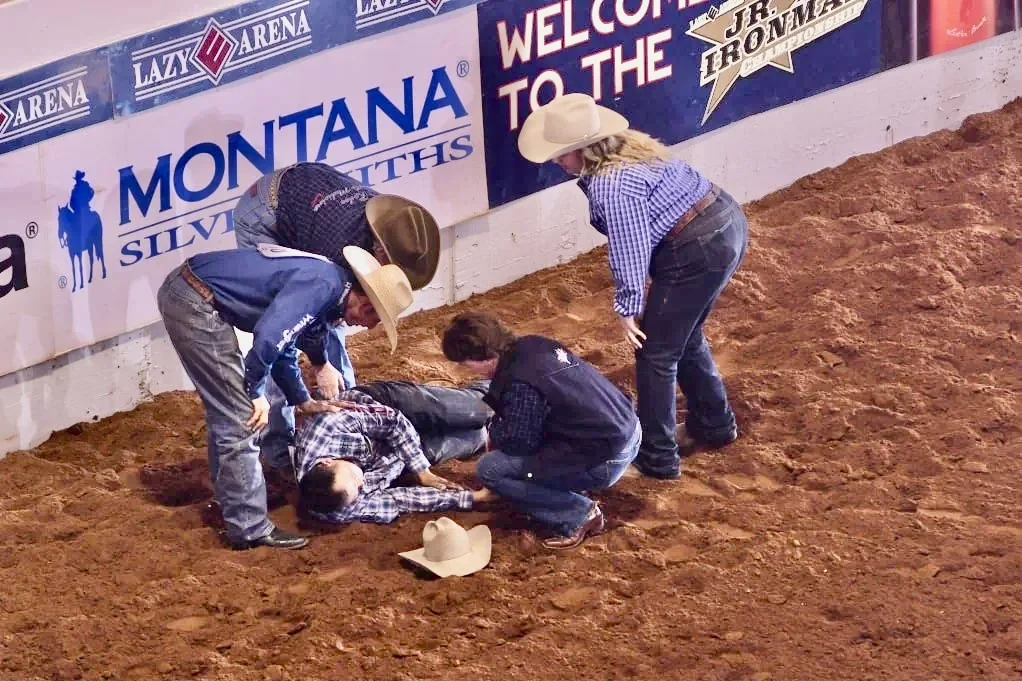 Erich Rogers was on top of the team roping world when the newly crowned 2017 World Champion Header blew out his right knee steer wrestling at the 2018 Cinch Timed Event Championship. It was run #14 of 25 at that year's Rodeo Ironman contest, and Rogers was in the lead when it happened.
"I was running my third bulldogging steer back up the left wall, and I was wanting to be really aggressive once I got my hands on him," Arizona native son Rogers remembers. "But as I started to slide him, my right foot stuck in some deep dirt, and I hyperextended my knee and buckled it to the inside. That's when the pop came, and it dropped me. I let go of the steer. I knew I was done."
But the warrior in Rogers refused to say die. He taped up, braced up and ran his steer roping steer to finish out Round 3. Rogers even returned after a trip to town between performances confirmed the extent of his injuries to include a torn MCL, ACL and meniscus. He tried team roping—2015 World Champion Header Aaron Tsinigine helped Erich in the heading and heeling that year—but after realizing he couldn't stand up in his stirrups to head and "about fell off in the heeling" had to call it quits for 2018. Rogers returned to the Timed Event in both 2019 and '20, and can hardly wait to commence TEC battle in 2021.
"I love competing at the Timed Event," said Rogers, who'll also rope at this year's BFI with Paden Bray. "The cowboy camaraderie behind those Timed Event chutes at the Lazy E is unreal. We cheer each other on, and respect what it takes just to be there so much. The bond between Timed Event contestants is like a brotherhood. We're pretty tight. I tell people that if they go watch it in person one time, they'll really get that. You'll be on the edge of your seat, just like we are."
But is the risk worth the possible reward and riches?
"Absolutely," Rogers said. "This is what we do for a living, and the Timed Event is who we are as cowboys. You can get hurt ranching, too. We just grit our teeth and take it one run at a time. This event started in 1985, and only 16 guys have been handy enough to win it. If you win the Timed Event, your name is in the rodeo history books of all-around cowboy greats forever. The best cowboys in the world step up and shine at the Timed Event. Look what happened last year. Rookie Taylor Santos showed up and stuck it on everybody. The Timed Event is a big deal. It's a great event, and it's as cool for the cowboys as it is for the fans in the stands."
Jordan Ketscher
Jordan Ketscher won the 2018 Timed Event, then turned around and left the Lazy E on crutches in 2019.
"It's not like anything bad happened or there was a wreck or anything," Californian Ketscher says in hindsight of the injury, which initially happened during his Round 3 steer wrestling run, and was finished off one run later in the steer roping. "I caught that steer, my foot hit sideways and the momentum got me. I hate that it happened, and that I had to have knee surgery. But that's just part of it sometimes. If you're a cowboy, you've got to saddle back up and go on."
That's exactly what the cool cowboy cat they call Maverick is getting ready to do again next month.
"There aren't many opportunities for rodeo cowboys to win $100,000 in one place," Jordan said. "You can acquire some assets with $100 grand. Every chance you get at money like that has to be taken. I love the Timed Event. That first bulldogging steer last year after blowing my knee out on the last one I'd ran was a little nerve-racking. But once you get that groove back, you just go on and it's fun again. I can't wait to get back to the Lazy E. I'm ready to get there and get after it. We all are."
Justin Thigpen
Georgia's Justin Thigpen hit the ground running when he won his first Timed Event in 2019. After having to take a year off to heal up from an injury unrelated to the TEC, he's anxious to get back to Lazy E action next month.
"I tore a muscle in my stomach right before last year's Timed Event catching a colt," said Thigpen, who's healed up and healthy in 2021. "It was a silly little deal. He kind of shied away from the mud, jumped back and snatched away from me. I felt the pop in my stomach when it happened. They said I either needed to give it four months off or have surgery, so I had to take last year off from the Timed Event. I hated to miss it. Only 20 guys get the chance to go at it every year, and it's such a unique and challenging event. I'm really looking forward to going back this year.
"I work three events (Thigpen heads, ropes calves and bulldogs) at every rodeo I go to. What the Timed Event is about is what we do as a group of guys every day. It's what we've worked all our lives for, so being on this stage is such an honor for us all. As for the money, well, we were getting ready to build a house when I won that $100,000 in 2019, so in my mind it was spent before I got home. What a blessing that was. But the best part of winning the Timed Event for me was the feeling of accomplishment, because I've dedicated my life to being a cowboy."
Jess Tierney
Jess Tierney comes from a family of Timed Event blue bloods. There's been at least one Tierney at the TEC since it started in 1985, and papa Paul, brother Paul David and Jess own seven Timed Event titles between them. Jess won it all in 2017, but faces a tough and painful decision about whether or not to do TEC battle in 2021 due to a nagging back injury. After a series of back injections he's hopeful about, Jess expects to render his verdict by March 1.
"I have two bulging disks down by my sciatic (nerve), between the L4, L5 and S1 (vertebrae)," said South Dakota native Jess, who currently serves as rodeo coach at Western Oklahoma College in Altus. "I've been dealing with this since 2009, and right after the tripping finals (National Finals Steer Roping last November) it started getting worse. I used to be able to plank and exercise on the elliptical and get some relief. Lately, I get a few minutes of relief, then my back tightens up again. I can't flank a calf right now, so if these injections don't do the trick, I'd have to go nose 'em down at the Timed Event. I also don't have the strength to hold onto a bulldogging steer if I get a strong one that wants to pull away from me. The Timed Event cattle are big and strong, as they should be at such a true cowboy contest. If you don't have all your strength, you're at a pretty serious disadvantage."
Jess will see how the injections help, then do his own risk-reward analysis factoring in pain management, the probability of peak performance and the likelihood of doing himself more long-term harm if he decides to gut it out and push forward.
"I'm obviously hoping to get by without surgery, and this didn't happen overnight," Jess said. "I started shoeing horses when I was 18, and after about 10 years of that my back got to hurting. Then I got bucked off, and hit right on my butt. That's when I really jammed my back. I carry an inversion table everywhere I go. And if I don't have that handy, I hook my feet over the top of a fence, hang upside down and stretch for about 30 seconds. When it pops and gets loose, it gives me a little relief.
"The Timed Event decision is a big one for me. I'm supposed to take it easy this week, then I'll get back in the gym. If I'm feeling pretty good, I'll tie some calves to the post with these college kids and maybe run a bulldogging steer at Stockton's (Graves, rodeo coach at Northwestern Oklahoma State University in Alva) before heading to Guthrie. The deal with the Timed Event is that a guy leaves there sore when he goes in healthy. It's just the nature of the beast. The Timed Event is hard on you. That's why it pays $100 grand. The Timed Event Championship of the World lives up to its name, and they've never had one without a Tierney in it. I hope it won't, but if it comes to me having to sit this one out, Paul David will represent our family. I don't want to disappoint (three-time Timed Event Champ) Jimmie Cooper by griping about pain. They call it Rodeo's Ironman for a reason, and guys who aren't tough need not apply. God gave us good doctors, and cowboys don't sit around in rocking chairs."
BY KENDRA SANTOS
Kendra Santos has written about cowboys all her life, including longtime stints with the PRCA, PBR, BFI and The Team Roping Journal. She's also mom to two 2021 Timed Event Championship cowboys, Lane Karney and Taylor Santos.